UEL Summer School is one of the annual activities of the American Law Center (a research institute established by the University of Economics and Law, Vietnam National University in Ho Chi Minh City) in partnership with Indiana University, US. UEL Summer School 2018, while focusing on Consumer Protection Law and Tort Law of the US, was successfully completed in 02 weeks from July 23rd 2018 to August 03rd 2018. Alif M. Gultom one of the participants who received scholarships to participate in the program which also include the accommodation.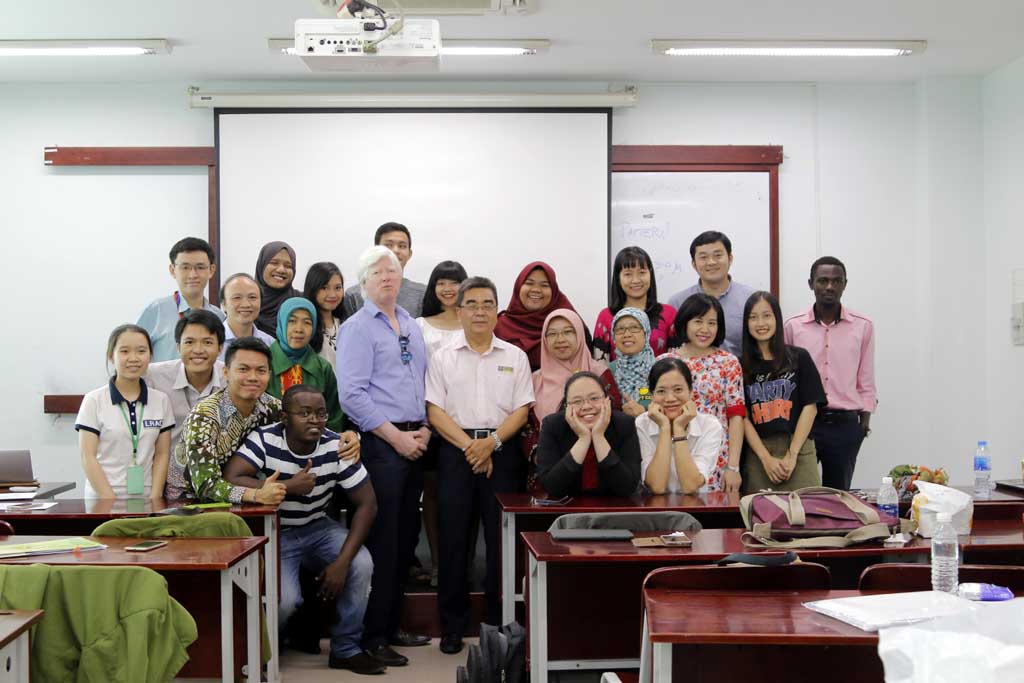 UEL Summer School 2018 was divided into two courses, taught by professors from Robert H.McKinney School of Law, Indiana University. Course 01 on Consumer Protection Law was taught by Prof. Max Huffman. Course 02 on Tort Law was taught by Prof. John Lawrence Hill. 35 lecturers, Ph.D Candidates, students within and outside of Viet Nam participated in the program: University of Malaya (Malaysia), Universitas Islam Indonesia, Universitas Pembangunan Nasional Veteran Jakarta, Suryakancana University (Indonesia), Paris I, Paris II (France), Keio Law School (Japan), Hanoi University of Law, Hanoi Open University, Duy Tan University, Dalat University, An Giang University, University of Economics and Law.
All participants enthusiastically participated in class discussion on different legal systems. Moreover, the special lessons on Vietnamese laws taught by UEL lecturers on labor law (Dr. Doan Thi Phuong Diep), contract law (LL.M. Nguyen Phan Phuong Tan), civil liability (Asssoc. Prof. Nguyen Ngoc Dien), trade and development (LL.M. Dao Gia Phuc) helped deliver Vietnamese laws to international participants. 
Concurrently with academic activities, the participants also joined in outdoor excursion and cultural activities.  On July 26th 2018, the participants visited University City, Viet Nam National University Campus by using E-Bikes and biked for 5km through member universities, dormitories and other facilities of Viet Nam National University. Afterwards, the participants learned to roll "cha gio" and had dinner with Vietnamese traditional cuisines at a restaurant in District 9.  On July 31st 2018, the participants experienced the WaterBus ride, ate Pho and visited the Independence Palace – one of the most famous historical sites of Ho Chi Minh City. Furthermore, the participants also had a chance to visit and learned practical knowledge from YKVN law firm and Vietnam International Arbitration Centre (VIAC).
Academician Assoc. Prof. Nguyen Ngoc Dienawarded the Certificate of Completion to the participants and conducted the Closing Ceremony on August 3rd 2018. UEL Summer School 2018 was very successful, not only had the program achieved the goal of being a useful academic program on American Law through the teachings of Prof. Max Huffman and Prof. John Hill, but also introduced the legal systems, legal practice environment as well as culture of Vietnam to the Professors and participants within and outside of the country. The program left beautiful memories for the participants, especially for lecturers and participants from different universities within and outside of Viet Nam, promising the continual success for future UEL Summer School.
https://fh.uii.ac.id/law-en/wp-content/uploads/sites/10/2018/11/UII-LAW-STUDENT-JOINED-SUMMER-PROGRAM-IN-VIETNAM.jpeg
711
1024
https://fh.uii.ac.id/law-en/wp-content/uploads/sites/10/2018/07/Logo-Faculty-of-Law-UII-300x127.png
2018-11-07 06:24:10
2018-11-12 04:16:07
UII LAW STUDENT JOINED SUMMER PROGRAM IN VIETNAM